This has been some year. Really. When 2013 started, I chose the word "Fearless" as my word for the year and I have to tell you, I slayed dragons* all year long.  From staring down old, childhood fears that not only, no longer served me, but were actually keeping me stuck, to stepping well outside of my comfort zone.  I allowed myself to be present in a way I hadn't thought possible and explored so many different things, spiritual practices, gatherings, making new friends, and even changing my entire business model.
The thing that stands out most for me, though is the reclaiming of music.  You see, I'm a great listener of music, a staunch supporter of musicians and an all around groupie – but the one thing I had denied myself was my right to make a joyful noise. For two decades while I raised children, homeschooled, ran the household, and built my business, the one thing I did not do, was make music.  I enjoyed the wonderful musicians I'm surrounded by and thrilled at the music my own daughter was making, but I mostly felt that my time was over and faded into the background.  I supported musicians – built websites and social media for them, sometimes even for free – but I had become what Julia Cameron termed in her book, The Artist's Way a shadow artist. I mean, I made art – I wrote, I did graphic design, I built beautiful websites, created cookbooks, doodled, sketched – but the one thing they all have in common is that they're "quiet".  I was afraid to make a noise.  I realized that I could sing in the car, just fine, but if I tried to sing by myself, I sounded funny – I couldn't reach notes that I should have easily gotten – I couldn't play piano and ever have it sound good. It was breaking my heart, but I wouldn't even allow myself to realize it.
Two years ago, I had a persistent, nagging, slightly sore throat and I went to the doctor, who sent me to an ENT, who diagnosed me with acid reflux.  He put me on medication that I took for six months without any relief, as a matter of fact, it started to feel raw. I went back to the doctor and told him that it hadn't been a heart burn type of feeling, it felt like I'd swallowed a pit, but that now it did feel like it was burning.  He found nothing wrong although he did say he saw some inflammation (turns out the very drug that they give you for acid reflux, exacerbates it if you don't take it regularly).  I stopped taking it altogether and in about a week, the inflammation went away, but I felt like I still had that pit.
I started to get serious about meditation and I found a weekly meditation (at Soul Essentials – for the locals).  One of the facilitators did a great Chakra meditation and it was then I realized that it might be my throat chakra was unbalanced. I started doing research and found lots of throat chakra meditations – I really began exploring and doing a lot of clearing.  Then one week the meditation was a Kirtan Chant and I fell in love. As that particular facilitator is quick to point out, Kirtan is not a performance.  It is a meditation, a yoga practice, breath work, and a coming together of voices.  This spoke to me so clearly and I started to chant often. For those of you unfamiliar with Kirtan, it's very different from the monotone, yet beautiful Gregorian – this is a singing, sometimes ecstatic chant.  It changed my outlook.  Singing isn't about performing, it's about healing, it's about communication, it's about emotion.
I started to play the piano again, singing what felt good to me. And before I knew it, I was happy with the noises that I was making – I started to share them with a few people and then more and more – and as I stepped through each next step, more doors appeared and more invitations were received to make more music.  People I'd known for years were surprised to find out that I was a musician.  Wow. I could cry just writing that – because that's what this is about, reclaiming the word "musician".  For if it were not for my desire to claim the word "Fearless", there would have been no journey back to "Musician".
I guess in the end, what I want to convey is that if there's something that you love to do – don't put it on the back burner.  If it's already there?  Take it out.  Play with it a little. See where it takes you.  You don't have to be perfect, or even any good at something to enjoy it – but if you do let yourself play and enjoy it, you just might find that you're better at it than you think.  So replace whatever word you feel that you need to incorporate using this model – I Am: Musician
What will you claim?
And?  Now when I feel that pit, I know that I need to speak my mind, or just plain sing.
*My great friend Terri came up with that term for me and I loved it so much, that I use it all the time.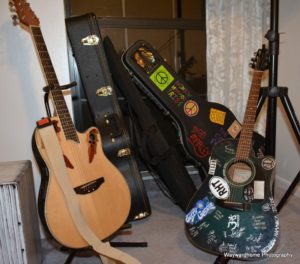 Photo Credit: Wayward Home Photography