A couple of posts ago, I talked about the Artist's Date – the commitment to your Inner Artists for an outing, once a week, at least one hour long, to restock your well.  Sometimes, you need more than that. Sometimes you need fast help if you've got a looming deadline, or you've just been stuck for too long.  I've shared a few favorites of mine for getting unstuck below and then I asked some of my favorite creatives for their ideas for creative inspiration and they're so good that I had to share them too!  (be sure to click their links and check out their wonderful offerings!!)
Here are my 'go to' creativity boosters, in no particular order:
More Creative Inspiration
Well, I like to do something risky and risque like opening up all the windows and blinds and walking around in the nude probably TMI but it works

Arrythmias Heartbomb
Partly Cloudy With a Chance of Love
A

car ride with someone else driving. Preferably in a picturesque setting. Where I can just look out the window and day dream. Very helpful.

Music. Or change of music will sometimes push me in a new direction.

I also find sunbathing very good to clear my mind. 15 minutes of just sitting in the sun….no reading no other stimuli…..is a very good reboot.

W

hen things get really bad and I feel "out of control" or totally frustrated with no direction to go in, I will clean the house…….thankfully I never get so bad the whole house gets cleaned. Hahahahaha!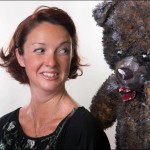 Jess Watson – Artist
Image Credit:
Corgi Photography
Turn up the beats and play air guitar. Or hop in the car and go for a drive and belt out whatever is on the radio. Or watch something hilarious. Make a new crystal grid. Energy clearing. Reiki session…Just depends on what's stuck haha.


Sierra Koch
Reiki Playground
I get in water. Preferably salt + moving. But a shower works too. And I visualize ideas washing over me in the drops at the same time I release and neutralize blocks.


Maria Schonder
loveyourfood. loveyourself. loveyourlife ™
I'm with

Maria Schonder

on this one Had an epic time in mother ocean today, playing in the waves. They were pretty big too. Saraphina got flipped for the first time. WAter up the nose. It was a shocker but she jumped back in!

Kris Katsuko Oster

Mythic Rhythm
Take Your Own Abundance Bath
Excuse me… pardon me… Beyonce fan coming through… Whenever I'm in that stuck place I get in front of the mirror, and I sing "Love On Top" BUT – instead of singing it as a woman to her lover, I sing it as a soul to God… so instead of "Baby, it's YOU! You're the one I love.." I say "Spirit, it's YOU!…" I really like living in a world where every love song sounds like either I'm singing to God, or God is singing to me… I'll be happy to post my "revised" lyrics –

#

NoOffenseBey

Monikah Ogando Halsey


Impactful coach, dynamic trainer and charismatic speaker…
I get up and Get Moving! A quick 5-10 minute walk, or a few minutes of shaking my moneymaker to some upbeat music, does wonders!
I go for a walk and talk to the trees. I have a fav tree I sit under when I need guidance or just to be… she's a great big Beech tree
Awesome ideas!  Thank you to all of you for participating!  Make sure you visit them for even more inspiration.
And if you need a little bit more creative help…