The first in a series, in this article we'll explore the root chakra, or the Muladhara – otherwise known as the base chakra.
The chakras are basically energy centers in the body – the word chakra in Sanskrit means "wheel" or "disk".  Keeping these chakras in balance and clear are believed to keep you at your peak, both health and emotionally.  I know first hand how out of balance I can get, and how much closer to balanced I feel when I pay attention to and work on balancing my chakras.
The first chakra has to do with safety and security, our animal instincts, and our place in society – a deficient root chakra can result in insecurity, poverty consciousness, victim mentality, distrust, problems with elimination, prostate, colon bladder or even foot issues.
A clear and open root chakra will result in feeling safe and secure in your place in this world.  The ability to provide for yourself and your dependents.
An excessive or enlarged root chakra can result in greed or paranoia, eating disorders, control issues, OCD tendencies.
I've included the chart below to get your started, or as quick reference, if you'd like to print it.
[wpsm_comparison_table id="1″ class="center-table-align"]
You can balance your root chakra in any number of ways.
Color Meditation – Find something that's deep red.  It can be in your physical presence, or a digital image. Look here for some ideas.  Get still and focus on your breath, inhale that beautiful red color and exhale any negativity.  Sit quietly for a while and continue doing this until you feel satisfied.
Yoga poses specifically for balancing your root chakra, Yoga Travel Tree has some.
Root Chakra guided meditation – there is no shortage of free, guided meditations out there.  Google it, or check out this one, designed for use while you're sleeping.
Aromatherapy – Choose the essential oil you like best that corresponds from the chart above and either diffuse it, or put a few drops in your hand, rub your hands together and then put them up to your face and inhale deeply.
Meditate, holding one or more of the crystals mentioned in the chart above.  Imagine your root chakra spinning, calmly, in a clear, vibrant, ruby red.
Chant the Mantra, "Lam" in the tone of C 
Listen to the Spotify play list below and put the 2nd song (Ode to Ganesha) on repeat.  I'm listening and chanting along, right now. (More about Ganesha below)
Grounding Meditation – Give yourself 15 minutes, shut of all devices, close your eyes, bring your awareness to your breath and imagine yourself as a tree, with roots deep in the Earth.  Enjoy the feeling of your roots descending into the cool, dark, dirt.  Imagine the power of the center of the Earth coming up through your roots, expanding into your trunk, out your branches, into your leaves.  I know it might sound silly, but it's one of my favorite ways to meditate – I have issues with grounding, myself and I use this often.
Get outside. Take off your shoes.  Go to the beach, plunge your feet into the sand.
Garden.  Plant something.
These are just a few suggestions – explore your own path and find your favorite ways to balance your root chakra.
Ganesha
The Hindu Deity associated with your root chakra is Ganesha, the remover of obstacles.  Depicted as an elephant headed god, let the archetype of Ganesha help you to ground and clear yourself, helping to balance your root chakra.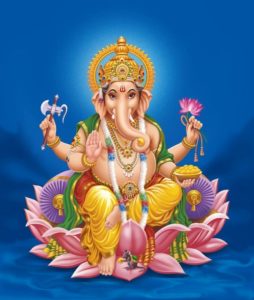 I created a Spotify play list to correspond with root chakra work, there are some traditional Kirtan (chanting) pieces as well as contemporary music that resonates with me in regard to root chakra balancing.  Bookmark and use as you like.
Like this?  Want more like it?